Volunteers help clear the Yvonne Arnaud garden
Fri 14 May 2021
We have been busy preparing the theatre to welcome back customers to our café and audience members to the theatre from Monday 17 May. One area we have been working on is our riverside garden, where last year we trialled holding outdoor socially-distanced live music. The resounding success of these events have meant that there will be more Gigs in the Garden in July, meaning that our over-grown garden needed a little spruce up.
A team of keen, green-fingered, volunteers have joined us over the last few weeks to help tidy up the garden space. The help we have received from this dedicated band has made a huge difference, and really opened up the potential of the space, helping us to increase the capacity of our outdoor events from last year, and have more space for outdoor seating for those using our Café.
It's just nice to be able to give something back to the theatre. It is a lovely space out here and we have managed to really open it up so you can enjoy the river. I love sitting and having a coffee by the water and this spot is going to be great for that now.
The help that the volunteers have given has been so gratefully received in making the garden and surroundings look loved again. They have cleared back a lot of the overgrown shrubs and low lying weeds. This enables clearer views of the river and our beautiful surroundings. We have also cleared areas to allow better views of the outdoor steps and performance area which we will be using during our planned summer outdoor events. We will also be able to add additional seating around the garden area to give patrons more availability for the events.
Dave has been seen in recent weeks standing in the garden, come rain or shine mulching up the branches and shrubs that have been cut back through the project, in order to recycle the material back into the garden as chippings and to help fill the flower beds, meaning that there has been no waste.
Volunteers Susan Dakin-White, Len Rogers, and Rosa Bond all joined the Yvonne Arnaud's volunteering team last December, when we recruited over 50 volunteers to assist our front of house team in welcoming audiences to our productions. Sadly, due to tiering restrictions at Christmas, we had to close our run of The Snow Queen early, meaning that most of these volunteers didn't get the opportunity to join us for a performance. We are looking forward to re-opening for shows in June and welcoming the team into the building over the summer and beyond. We have training sessions booked in for the next few weeks and we know that our volunteers are excited to return.
It's so rewarding to be able to volunteer for the theatre and we are looking forward to being able to see it up and running again soon. This garden project has been a welcome return to the theatre.
We were overwhelmed with the positive response we had when we reached out to the community for volunteers. They help to ensure that our customers have a wonderful visit to the theatre and this support is invaluable to the theatre and the wider community. The fantastic work done by our volunteers in our garden will enable everyone to enjoy this wonderful space by the river. As this has been so successful we will be looking into having a regular team of volunteer gardeners to keep the garden maintained and looking in its prime.
.......................................................................................................................................................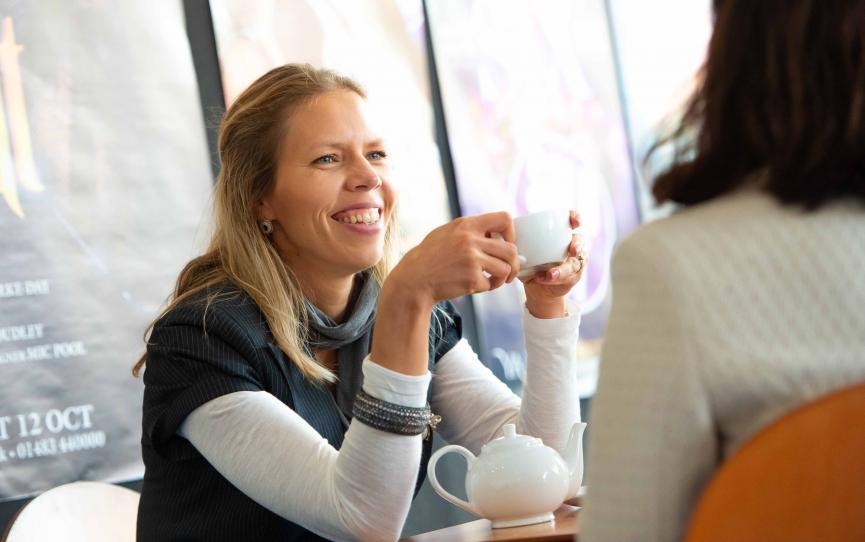 Our Café opens from Mon 17 May
Open Mon - Sat, 10am - 3pm
The Café will serve hot and cold drinks, as well as snacks and sandwiches, to either be enjoyed in our indoor Café space or our newly spruced-up riverside terrace garden! 
We are also now able to do takeaway hot and cold soft drinks, and food, so do pop by if you are passing, even if you can't stay! Well-behaved dogs are also welcome in our garden. We are not able to serve hot food or full meals at this time, but hope to be able to soon.