Participation
We are sad to announce that, due to the current Coronavirus outbreak, our youth theatre and participation activities have been cancelled until further notice.
As soon as we know more, we will be in touch. Be sure to sign up to receive our emails and follow us on social media to ensure you'll be first to know of any changes! 
............................................................................................................................................................
We believe experiencing theatre and drama through participation inspires young people to develop their own creativity, build their self-confidence and foster a lifelong love of theatre and learning.
Education
Our Youth & Participation Department has a dedicated team of practitioners ready to support teachers, through in-depth, drama-based workshop sessions – creating a different, interactive and fun learning environment which gets the whole class involved. 
All of our workshops are flexible to your requirements and should you want something different to fit in with your teaching plan then give us a call and we'll do our best to provide it.
A great workshop with a good mix of activities for the children to learn from. The actors were enthusiastic and creative. We all enjoyed it.
Available Workshops
Ancient Greece
Poetry
Shakespeare - specific plays covered: Macbeth, A Midsummer Night's Dream, and Much Ado About Nothing.
Technical Theatre and Production
An Inspector Calls (in development)
We are always up for a challenge and love to work on different topics. Should you have a particular subject in mind that is not on our list, please feel free to get in touch for discussions on how we could potentially develop something bespoke for you.
Workshops: Productions
Some of the professional productions who tour to our venue offer workshops to schools who are coming to see the production. Please see individual show pages to see if these are being offered for that production, or contact our Youth Team to discuss this in more detail.
Outreach
In the Youth & Participation Department, we believe in 'theatre for all' and recognise that the Arts are vital, not just in schools, but also within the wider community.
We want theatre to be accessible to everyone, and actively seek to work with targeted groups of whom have restricted or no access to experiencing the arts. 
Do contact the Youth and Participation Department if you know of a targeted group within the community who could benefit from working with us.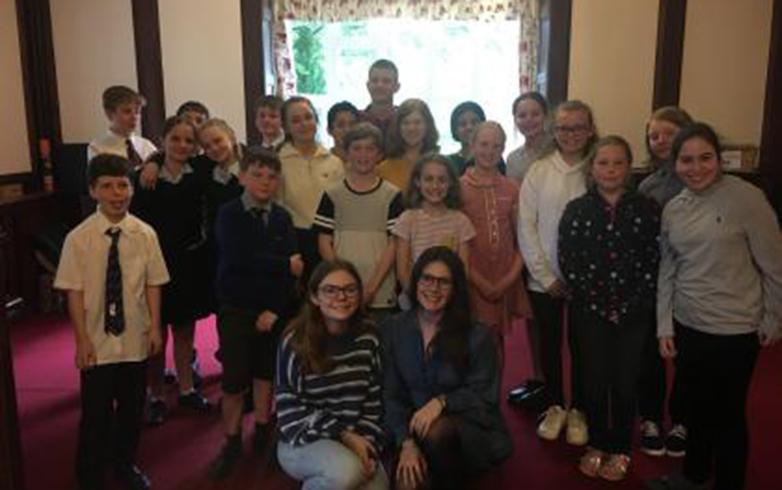 Pilgrim Wood
One of our on-going outreach projects, is our collaboration with Pilgrim Wood Residential and Dementia Care Home. Established in June 2019, with a small group of our Youth Theatre Members taking a short, devised piece of theatre to perform to the residents there, we are now developing this relationship further - with more planned projects and opportunities to bring theatre to those at the care home. 
It's really lovely and important to be working with the Yvonne Arnaud to bring us together, as part of Guildford's community. Hopefully this is just the start of something really nice. We've got big things planned!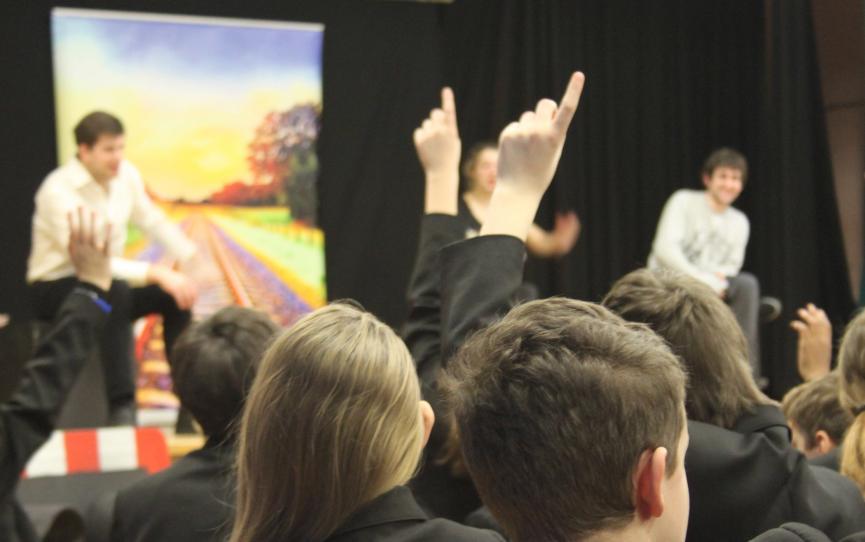 Off The Level
Off The Level is our major flagship project focusing on level crossing misuse. Working in partnership with Network Rail and the British Transport Police.
Off The Level has toured the UK for over four years, has been seen by over 10,000 people and has featured in the National Press and on BBC News.
Many people use level crossings without thinking of the dangers, but Off The Level highlights the repercussions of making a split-second, risk taking decision. Every year there are as many as 300 fatalities on level crossings and the majority of railway trespass incidents are committed by those aged 8-16 year old. 
Off The Level addresses vital issues and is designed to save lives. 
For booking enquiries contact our Youth & Participation department or contact your local Network Rail Community Safety Manager.
Off The Level has a massive impact in such a short space of time – not just on young people, but also Network Rail staff, we use it to help them understand the impact of safety on workers, individuals and families.